Three Part Story
This is a 3 part story using the provided information for my Writing for Communications Class: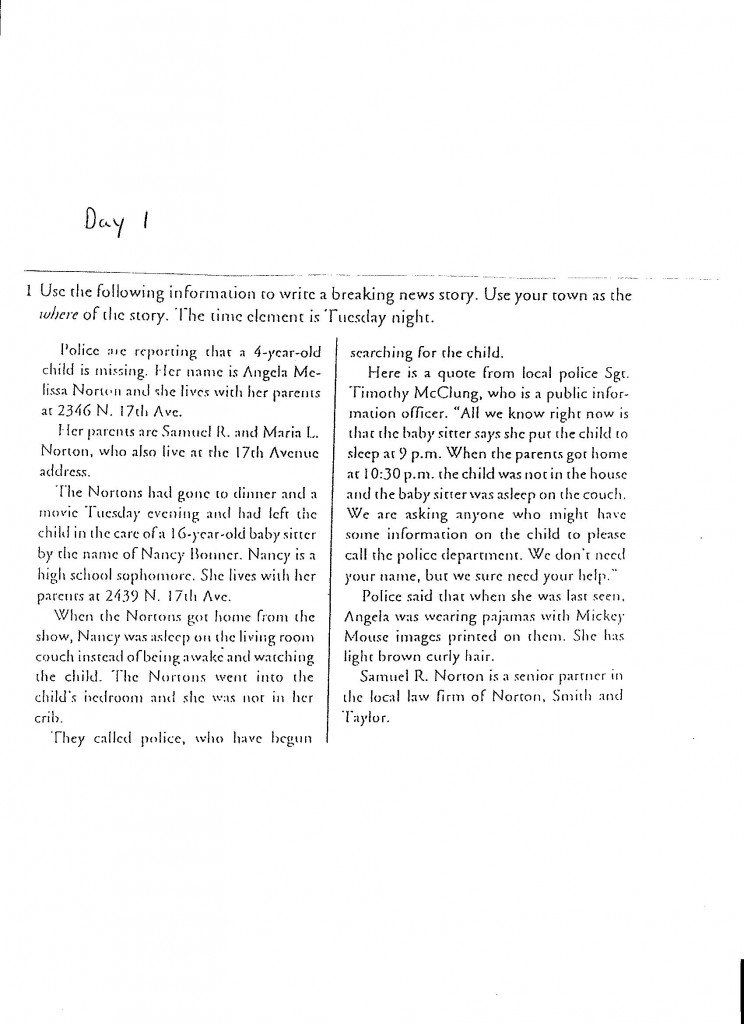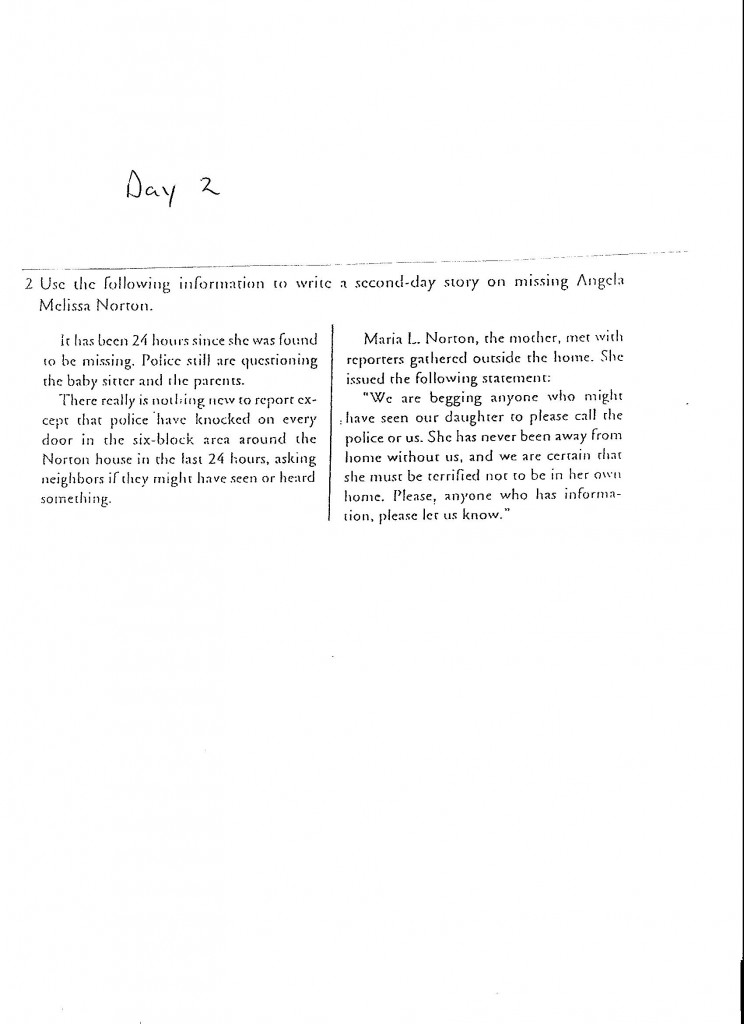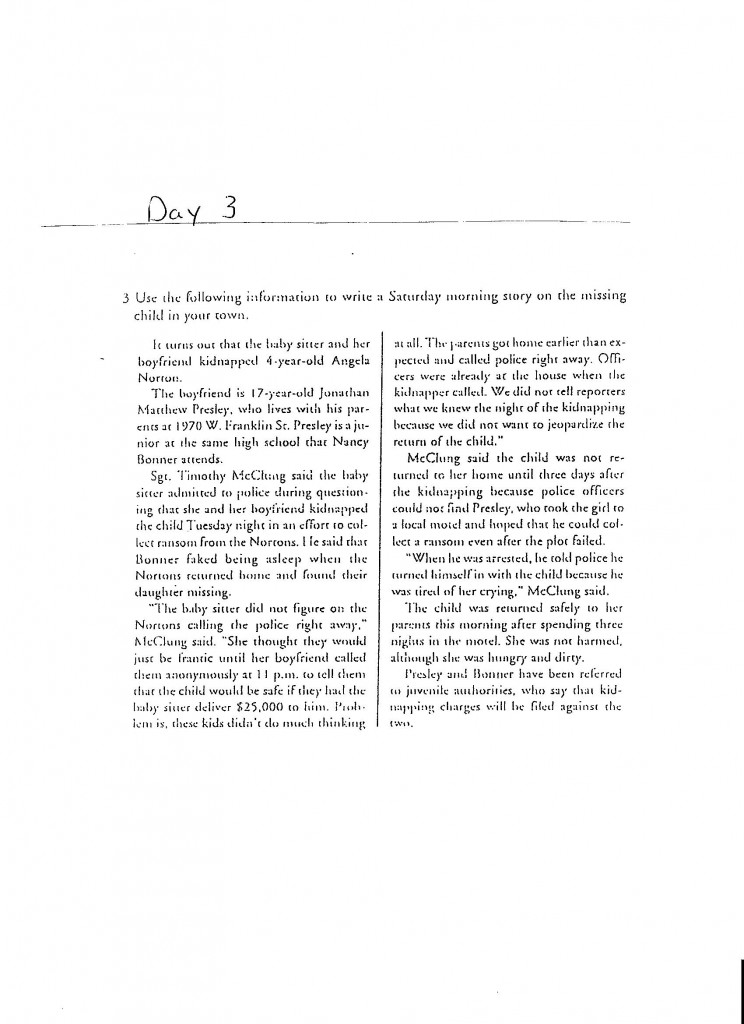 Day one:
Tuesday- A 4-year old by the name of Angela was reported missing Tuesday night after being in the care of her 16-year old babysitter Nancy Bonner.
The Parents of the child are Samuel and Maria Norton who reside in Silverlake in Eagle Mountain.
The Nortons left Angela with Bonner (a sophomore at Westlake High School) for a dinner date. When The Nortons returned back to their house they found Bonner asleep on the couch.      When the Nortons returned they checked on their child immediately to find their child missing. The police were contacted for further investigating.
Bonner informed the police that she had put Angela in her crib at 9p.m. that night, the Nortons arrived only an hour an a half later to find their child not in her crib as Bonner claimed she would be.
It has been reported that Angela may still be in her Mickey Mouse Pajamas she was last seen in; she can also be spotted from her light brown curly hair.
If you have any information on Angela Norton, we ask that you directly contact the police department of Saratoga Springs.
Day two:
Wednesday-Angela Norton has been reported missing for 24 hours. Police are still performing investigations questioning 16-year old babysitter Nancy Bonner and Angela's parents.
Police have knocked on every door in Silverlake asking residents if they had any new information or leads to where the child may have gone.
Maria L. Norton issued this statement regarding her child,
"We are begging anyone who might have seen our daughter to please call the police or us. She has never been away from home without us, and we are certain that she must be terrified not to be in her own home. Please, anyone who has information, please let us know."
If you are able to provide any information about Angela Norton please contact the Saratoga Springs Police department.
Day three:
Thursday-Angela Norton has been safely returned to her home, Nancy Bonner and boyfriend, Johnathon Matthew Presley are being held responsible for the kidnapping of Angela Norton.
Bonner and Presley both attend Westlake High School. The couple devised a plan for Presley to kidnap the baby while Bonner was babysitting. The plan was to keep the child safe in exchange for a ransom of $25,000.
Presley planned on calling around 11 p.m. after the Nortons arrived back home requesting ransom money to be delivered by their babysitter, Bonner. Bonner pretended to be asleep when the Nortons arrived home.
The high school couple's plan was foiled when the Nortons arrived home early, the police were already at the Norton's house when the kidnapper had called, police kept this piece of knowledge from the media in hopes to not jeopardize a safe return of the child.
Presley was holding the child at Motel 6 in Lehi in hopes that he would still be able to collect a ransom after "Plan A" fell through.
"When he was arrested, he told police he turned himself in with the child because he was tired of her crying" Sgt. McClung said about Presley.
Presley and Bonner are facing charges and attention from juvenile authorities.
As for the child, Angela Norton is still safe in her parent's arms after spending three nights away from her family. The child may have been returned hungry and dirty but the family knows they are blessed to have no harm come upon their precious daughter.