Special Leads
These are a few samples of special leads I wrote for my Writing for Communications class from the following material: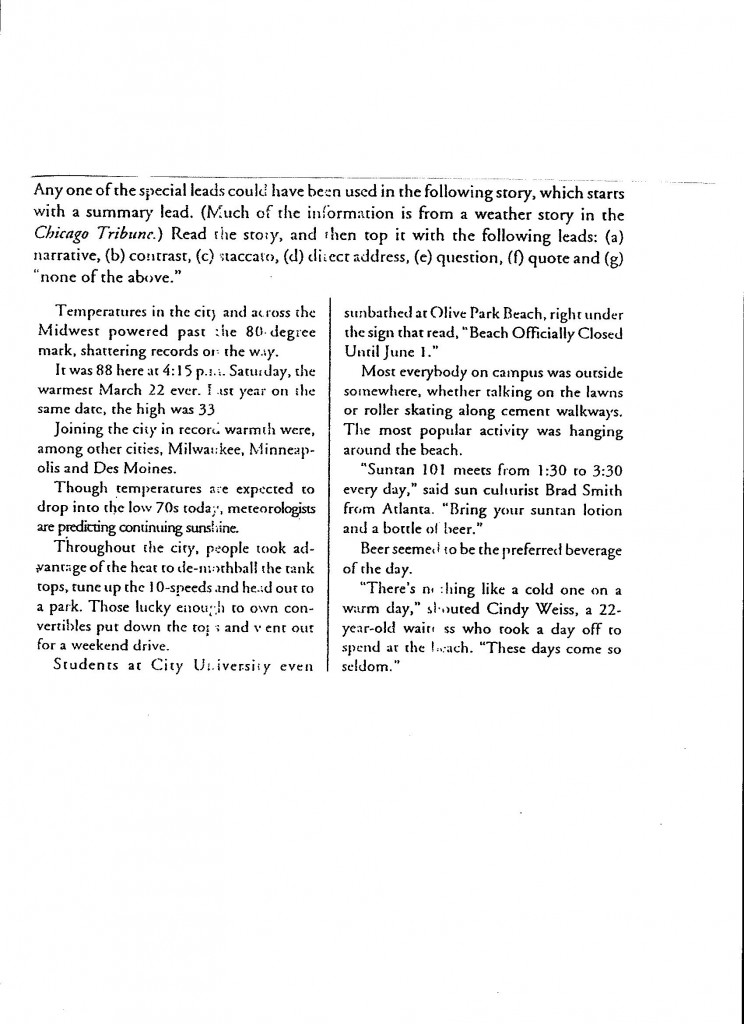 Narrative:
Chicago Tribune- Some of the hottest days have come to the city, it's the perfect tanning weather, a good time to take your bike out and simply enjoy the sunshine. Temperatures as high as the 80s have made for many eventful days in the city, beaches have closed, parks are filled and summer has arrived.
Contrast:
Chicago Tribune-Reflecting back on last year's weather on March 22nd, the high temperature was as low as 33 degrees. We have had a 55 -degree increase in temperature since last year.  Locals have enjoyed the sunshine while others are really wishing that the low were a lot lower than 70degrees.
Staccato:
Chicago Tribune- Sunshine. Bike rides. Sun tanning. 88-degree weather. It's beginning to look like summer.
Direct Address:
Chicago Tribune- If you have been longing to work on your tan, today is your chance. The weather has been considerably warm, 88 degrees was the high of today. It's the perfect day to take a bike-ride, visit the pool or have a perfect little backyard barbeque. Today we celebrate summer.
Question:
Chicago Tribune-When would be the perfect day to take a family picnic? Today might be appropriate with sunshine and warm temperatures as high as 88 degrees, you couldn't go wrong.
Quote:
Chicago Tribune-"There's nothing like a cold one on a warm day," Shouted 22-year-old Cindy Weiss celebrating with a beer her excitement for this warm city weather.
Other:
Chicago Tribune-Cold weather? No thank you. The only cold that should be a part of this summer is a cold beer to cool down after a hot day.