March Madness Trend Bracket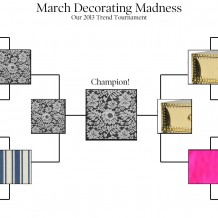 Elle Decor and House Beautiful have teamed up to create a fun bracket for designers. I am not big into basketball and many other designers have expressed how this is "My kind of March Madness".
The Trend Tournament can be found on both Elle Decor and House Beautiful's Facebook pages. Today the Tournament begins. Today the competing trends are leopard print and lace. I voted for lace, follow the Trend Tournament on Facebook through Elle Decor and House Beautiful to cast your vote. This Trend Tournament is just for fun for those who enjoy design.
Here is my bracket:
How well do you think I will do? We will have to wait and see.
-Marisa Faye Reeves