My Real Life PR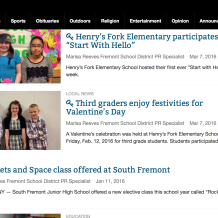 I have been in the Communication department for about 3-3.5 years now. In that time I have had opportunities to perform PR for real companies but they are usually short-term and I don't always see the results of the campaigns carried out.
It has been about a year since I started working for Fremont School District as a PR Specialist. The job was a little intimidating because no one really taught me what to do. I just needed to improve the PR for the school district. We received minimal press recognition and had slow social media traffic when I started. For me it was very exciting to see my name in the paper, with a picture I took, the article I wrote and a "big girl" job title. Marisa Reeves/PR specialist. I remember appearing on page 2 of the Standard Journal (A local paper in Rexburg, Idaho). Faculty members thanked me for giving their students recognition, we were receiving traffic and engagement on our Facebook page. I really felt like I was making a difference.
Some weeks are slow, sometimes I'm just editing other people's articles or getting material ready. It can be difficult working around my school schedule when the students at these schools have similar school schedules. It's difficult sometimes working outside of the town you live and go to school in when you really do have a "college" car. The car has broken down on me several times. I am still able to get a lot of work done from home even when car issues, school schedules or other items may conflict.
It has been great to finally break out of my retail jobs and feel like I'm on my way to a career more suited for me. I have learned how to communicate with a wide variety of people in an organization, increase social media traffic and increase community satisfaction. I hope I have paved a good path for the next PR specialist to step into.