Photo Adventures- Photo-book Final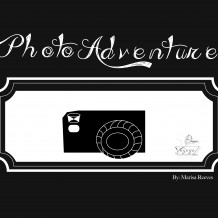 For my Final project in Digital Imaging we were assigned to create a photo-book with a collection of our work throughout the semester. I used mypublisher.com to send my book off to look like a real book. I designed the format of the book in In-Design using some Illustrator.
I used a beveled edged frame around each of my pictures and a decorative font as the headings for my description pages. I took my best work from all my photos I have posted this semester. I gave information about how I took the pictures, where and the significance of each picture. I designed the cover in Illustrator and In-Design featuring a camera I designed in Illustrator. I liked the black and white, I felt that it complimented my work in a very classy way that wasn't distracting to my images. I do have a very fancy font, that font is not on the pages that feature an image.
I hope you enjoy my work I have done throughout the semester!
Click the Photo or link below to view a PDF version of my Photo-book:
-Marisa Faye Reeves