Tips on Photographing Children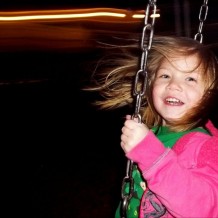 One of my last assignments for my Digital imaging class was to make a tutorial. This was my very first attempt at making a video that I didn't just press the record button on and call it good, I know nothing about video editing so it was a little frustrating for me.
I chose to do my tutorial video on photographing children because I have experience with it and expect that I will have more experience with child photography in the future, I did some research but mostly I came up with the idea on my own. This is applicable to anyone who will ever take a picture of a child, which lets face it most of us will.
Click here for the PDF document: TutorialPDF
Photos included in the video and the PDF belong to me, I took all but the one of myself with a camera
Photos from the PDF:
1.Taken in Eagle Mountain, Utah, February 9th 2014
2.Taken in Midway, Utah, January 2nd 2014
3.Taken in Eagle Mountain, Utah, February 9th 2014
4.Taken in Eagle Mountain, Utah, March 17th 2011
Photos in my video were more focused on illustrating a point rather than having pretty pictures, although some of them still were good.
Photos in the video not included in the PDF:
1. Taken in Eagle Mountain, Utah, unknown date
2.Taken in Lehi, Utah, unknown date
3.Taken in Mona, Utah, unknown date
4. Taken in Lehi, unknown date
-Marisa Faye Reeves