One Snowy Day (Flexible Edits)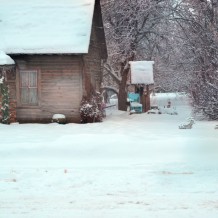 These are pictures I took for Digital imaging, we are learning about flexible edits, creating adjustment layers and filtered layers. Here is some of my work:
The first edit I performed on this photo was added with a Black and White mask layer. I Added color back to the image on the fence and in the tree. Next, I added a warming filter, I masked out the tree in the back. After performing the masks and edits I added another layer and fixed the color balance, I took out the majority of the blue undertones. This image was taken in my backyard.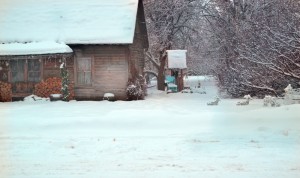 This picture is a picture of a house just down the street from my own house. The first edit performed on this picture was a hue and saturation adjustment, I made some of the colors stand out more, then I masked over parts of the house to make the adjustment look a little more natural. Then, I added a warming filter and again masked out some of the colors that looked un-natural or distracting, particularly in the trees for this mask. I then fixed the color balance focusing mostly on my blues and reds. Then I added a levels mask layer giving the image a realistic amount of contrast.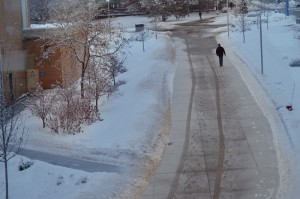 This image was taken from the Bridge between the Hart Building and I-Center at BYU-Idaho. The first thing I did with this photo was apply an adjustment layer of color balance, I lightened the blues. I masked over certain areas of the snow and brought out more of the walk way. Then I applied a sepia filter, masking some of the top in the image. Then I went back and fixed the color balance again along the walkway.
Original Thumbnails:
Original Photo information:
1. January 29th 2014, 4:14pm, Nikon D3100, f/4.0, Shutter Speed: 1/250second
2. January 29th 2014, 4:31pm, Nikon D3100, f/5.6, Shutter Speed: 1/320second
3. January 29th 2014, 4:53pm, Nikon D3100, f/5.6, Shutter Speed: 1/160second