Tornado in Madison County
The following is a story derived from the image information below about a fictional tornado. This was an assignment for my Writing for Communications class.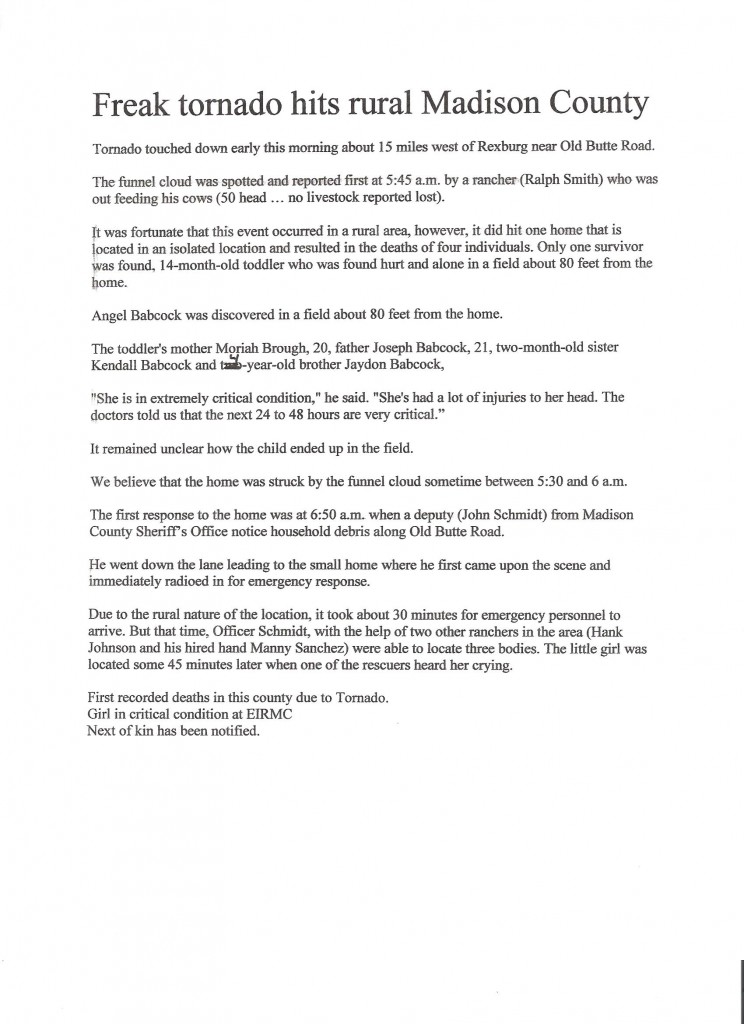 Friday November 1st–
Four bodies and a destroyed house were found this morning from a Tornado 15 miles West of Old Butte Road. One survivor was found in critical condition.
Madison County duty, John Schmidt drove by the tornado sighting this morning and spotted a house that was affected by this disaster. Emergency services were contacted, however it took approximately 45 minutes for services to arrive. The Sheriff and two ranchers were able to locate three bodies before emergency services arrived, identified as the household's mother Moriah Bough (20), father Joseph Baycock (21) and their son Jaydon Baycock (4).
After rescuers arrived another body was located and identified as 2-month-old Kendall Baycock.
These are the first deaths reported from a tornado in Madison County.
Rescuers were able to locate one survivor, 14 month old Angel Baycock was found crying in a field. She has received medical attention for her head injuries; Doctors say that these next 24-48 hours are critical for the toddler.
The Baycock's/Bough's Family has been notified on the accident and are looking after the Toddler.