Five Part Story
The following is a 5-part story from the information provided in the image below. This was an assignment for my Writing for Communications Class: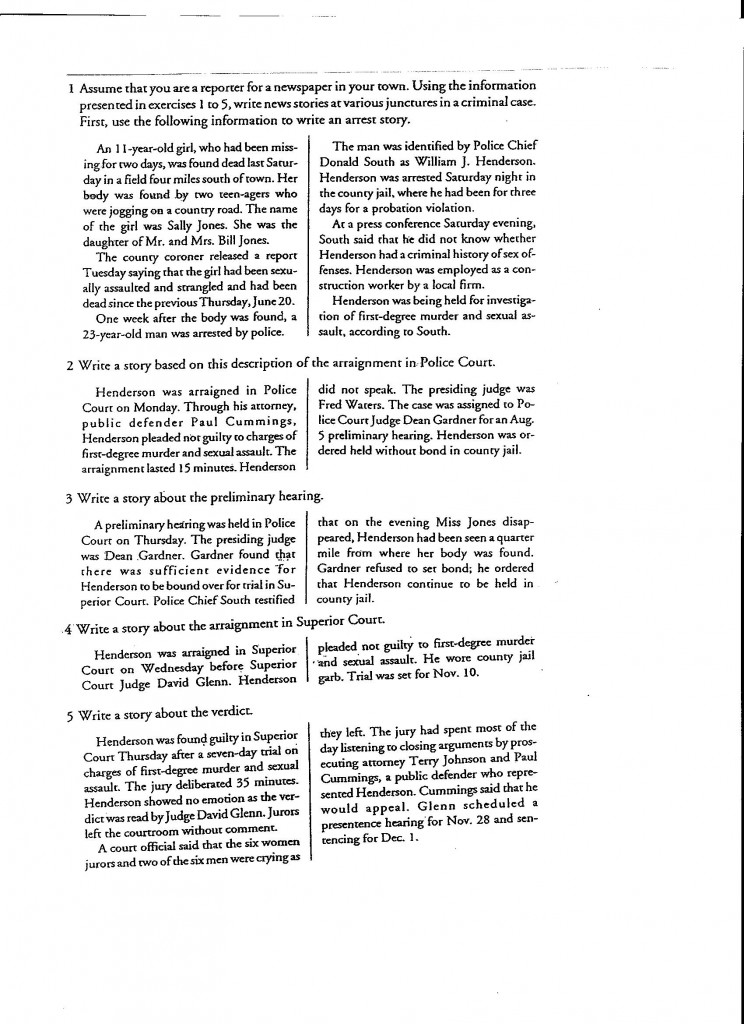 1.  An 11-year-old girl was found dead last Saturday after reported missing for two days. The girl was identified as Sally Jones, daughter of Mr. and Mrs. Bill Jones.
The causes of her death were reported as sexual assault and strangling. According to the county coroner, the girl had been dead since Thursday, June 20.
A week after the body was recovered, a 23-year-old man identified as William J. Henderson was arrested.
There is no awareness of Henderson having a history of of sex-offenses. He was held for investigation of first-degree murder and sexual assault.
2. Henderson, was arraigned in Police Court on Monday concerning the murder and sexual assault of Sally Jones. Henderson pleaded not guilty. Henderson was ordered held without bond in county jail.
3. Evidence was found Thursday in Police Court that Henderson was seen a quarter of a mile from where the body of Sally Jones was found the evening Miss Jones had disappeared. Police Chief South testified of this evidence.
Presiding judge Dean Gardner refused to set bond, he ordered that Henderson continue to be in held in county jail. Henderson will be turned over for trial with the Superior Court.
4. Henderson continued to plead guilty of first-degree murder and sexual assault on Wednesday before Superior Court Judge Glenn. Trial has been set for Nov. 10.
5. Henderson was found guilty in Superior Court of first-degree murder and sexual assault of Sally Jones. Henderson was on trial for seven days.
Henderson revealed no emotion when the verdict was read by Judge David Glenn. Jurors left the courtroom without comment.
Prosecuting attorney was Terry Johnson and Paul Cummings, a public defender represented Henderson. Cummings said that he would appeal. Judge Glenn scheduled a pre-sentence hearing for Nov. 28 and sentencing for Dec. 1.